October 22nd, 2018
Each week, I select a few articles that rise above the fray and hopefully help you on your journey in the CRE world. They pull from one of four "corners:" corporate real estate, technology, management science and anything positive. I welcome your comments on these articles.
How This Millennial Came To Realize The Value Of Old-School Management
"I've worked in some pretty challenging environments in the past, ranging from mind-numbingly boring to outright hostile. Back then, I promised myself that if I ever had my own company, it would be different.I kept that promise to myself once I started BodeTree, working hard to create a progressive, modern workplace for my team. My goal was to foster an environment where people were free from micromanagement and encouraged to find creative solutions to difficult problems.The hope was that my Laissez-Faire management style would bring out the best in my team and enable them to thrive. I was arrogant enough to scoff at the ideas of "old-school" managers, content with my morally-superior approach.
My progressive approach ended up causing more problems than I ever expected. Work didn't get done, conflicts arose between team members, and frustration grew on all sides.In dealing with these challenges, I came to a startling conclusion: "old-school" management techniques not only work; they're vital to the success of an organization.Trust, but verifyOne of my favorite quotes comes from President Reagan, in response to dealing with the Soviets. "Trust but verify," was his mantra. In the past, I've been heavy on the trust, but far too light on the "verify" aspect of that equation. www.forbes.com[tweet_box design="box_09" float="none"]One of my favorite quotes comes from President Reagan, in response to dealing with the Soviets. "Trust but verify," was his mantra. In the past, I've been heavy on the trust, but far too light on the "verify" aspect of that equation.[/tweet_box]
What Is the Future of Getting Kids to Soccer Practice?
"Each company in the industry tends to pursue a similar group of people: well-off families with two time-starved working parents and multiple overbooked children. "Kids can make it on time to the very best rowing practice, math tutoring, and fencing class," says Kate Soskil, the marketing manager of the Massachusetts-based Sheprd, as she described the company's target customers, "and Mom/Dad can stay late at the office for that important meeting that's running over." Juliette Kayyem, the CEO of Zemcar, told me that "divorced dads are actually a big customer base for us."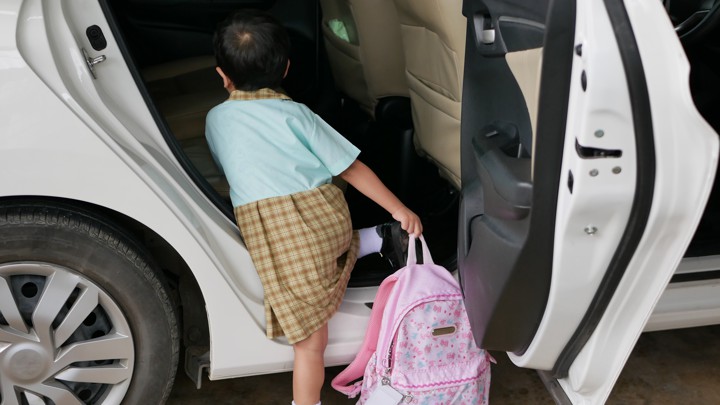 If only children were allowed to drive, they could get from home to school to piano lessons and back home again without their parents' help. Alas, they are not.
These companies are effectively trying to replace carpools and school buses, and the majority of them were launched in the past two to five years. Arun Sundararajan, a professor at NYU's Stern School of Business and the author of The Sharing Economy: The End of Employment and the Rise of Crowd-Based Capitalism, says he attributes the boomlet to the rapid rise of Uber and Lyft during that time: Those two companies proved the viability of on-demand rides, but since their terms of service prohibited minors from riding unaccompanied, there was room for kid-specific firms to claim some of the market. In carving out this niche, these companies have been decidedly less cutthroat in their business practices, and because so many of them seek drivers with professional caregiving experience, many of those drivers are women." www.theatlantic.com 
Should You Tip Your Uber Driver? If So, How Much?
"..it makes sense to tip your driver because they are providing a personal service which involves safety and comfort, and our cultural norm is to tip those who provide this kind of service. She pointed out that this norm will vary in overseas markets. "In Europe the tipping expectations would be lower, and many passengers would simply 'round up' the bill. And don't even think about tipping any driver in Japan — that would be considered rude," she said.
Both Uber and Lyft limit their tip amount to 200 percent. So you wouldn't be able to leave a $15 tip for your $5 Uber ride if you were feeling extra generous — at least not on the app. The companies put a ceiling on this to keep passengers from accidentally adding an extra zero and overtipping.
Whether you give your driver cash or just tip through the app, they receive 100 percent of the tip; Uber, Lyft, Gett and Via don't take a cut. Generally, drivers are just happy to get a tip, Mr. Helling said, and many don't have a preference for cash versus tipping directly in the app. Still, if you have the cash on hand, it can't hurt to ask." www.nytimes.com
How To Invest Your $1.6 Billion Mega Millions Winnings
"You still couldn't buy an NFL team or an NBA franchise. Those are reserved for the multi-billionaires, not somebody who has a mere $687 million. Nonetheless, you could still afford most of life's extravagances. Once you have shared the wealth with family members and your favorite charities, you would eventually have to get down to the business of investing your windfall. Don't worry; there would be plenty advisors knocking at your door with all sorts of ideas. Help is only a 1% fee away, after all. But if you are more of DIY investor (which most likely would change with $687 million to your name), here are a few suggestions to get you started." www.forbes.comThis is the Easiest Way to Make Your LinkedIn Profile Stand Out"There's a simple solution to this–customize your headline. Instead of meekly recording your title and company, try following the tried-and-true strategy of describing what you do and who you help. This is your elevator pitch in 120 characters." www.fastcompany.comYour success blesses others. I wish you a great a hugely impactful week!